Gutter Replacement, Cleaning & Repair Services
Gutters play an important role in protecting your home or commercial building against water damage. Unfortunately, gutters and downspouts often show damage after harsh weather or from old age. If your gutters are broken or old and you need a gutter replacement, count on Roof Maintenance Services LLC.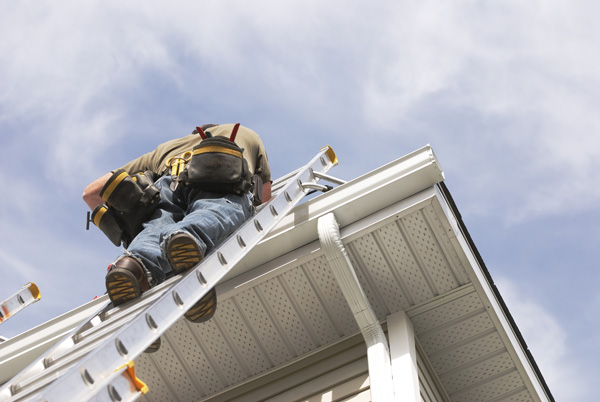 Signs You May Need Repaired or New Gutters
Signs that your gutters are damaged include:
Sagging gutters
Loose downspouts
Leaking gutters
Holes or cracks
Rust or mold growth
We can perform a professional assessment of your existing gutters and recommend either repair or replacement as needed. Contact us today to schedule your free consultation and estimate!
Installation for High-Quality Gutters
Roof Maintenance Services LLC is a trusted gutter replacement, installation and repair contractor. Customers trust our extensive expertise in these areas. We understand that an improper gutter installation can harm your roof, and we employ our roofing experience to make sure your gutters attach carefully to your roof, avoiding any problems down the road. We install only high-quality gutters that will protect your building for decades to come.
Do Your Gutters Need Gutter Guards?
Allow our experts to make sure you receive the right gutter guards for your specific gutters. We install high-quality gutter guards that will keep debris, such as twigs, leaves and dirt, out of your gutters by covering them with a perforated top. Water can flow through the perforations, while the gutter guards keep unwanted things out.
Book Your Free Consultation & Estimate Today
If you notice an issue with your gutters, contact our experts and we will help you decide between gutter replacement and repair. To make an appointment, call us today at (502) 735-0305 or fill out the contact form. We will respond quickly. We will be happy to discuss your gutter needs and provide you with budget-friendly service.